01/03/23.- Film productions on the sets of Parc Audiovisual de Catalunya and at various locations around the city, managed by the Terrassa Film Office, mark the maximum recorded so far, surpassing the 120 productions in 2015.
This is great news with respect to the city's audiovisual activity last year and marks the path to follow in the future. Terrassa, in this way, continues to consolidate itself as a scene for shooting films, commercials, television series, documentaries, video clips and other genres, totaling 1075 days of activity and 123 productions.
By genre, the city hosted 30 fiction projects (film, series, TV), 39 commercials, 37 academic projects, 5 music videos and 12 productions of other genres such as live streaming, special effects and stunts, corporate projects, and photo shoots. Of these 123 shootings, the Parc hosted 52 and the Terrassa Film Office managed 71 permits for filming in public areas or private locations. As for the nature of the productions, many were international projects
FOTO: PARC AUDIOVISUAL DE CATALUNYA
In this way, the Parc Audiovisual and the Terrassa Film Office reinforce their role as key players in the sector and combine efforts to attract as many productions as possible to the city. The large number in 2022 is a natural reflection of the excellence sought by this city, recognized as a city of film by UNESCO in 2017 for continuing to be a popular scene for filming.
Highlights
Among the fiction projects hosted, many with crews that maintain strong ties to Terrassa over the years, we find the series 'Bojos per Molière' (TV3), 'The Crown', 'Bienvenidos al Edén'  and the films 'El cuerpo en llamas', 'Palomino', 'Self Tape', 'Rich Flu' or the debut of Mario Casas directing 'Mi soledad tiene alas'. For television, two programs for TVE, 'Días de Tele' , with Julia Otero, and 'La gran confusión', with Xavier Sardà. In advertising, commercials for brands such as Massimo Dutti – Studio, Apple, Nissan or Toyota Gr Sport, and the video clips of the group Stay Homas, 'Here2Play', and Shakira with 'Te felicito' and 'Don't You 'Worry' (accompanied by Black Eyed Peas and David Guetta).
Grassroots support
Most of the academic film projects have been by students of the ESCAC (Cinema and Audiovisual School of Catalonia), also located in Terrassa. It is worth mentioning that both the Parc Audiovisual and the Terrassa Film Office provide ongoing support and advice for finding film locations and managing permits. Terrassa is committed to supporting creators in the initial phase of their career.
Terrassa, with the Parc Audiovisual studios and the Terrassa Film Office, members of the Catalunya Film Commission and Spain Film Commission network, present themselves to the national and international sector, as an authentic Film Friendly city, always ready to host film projects.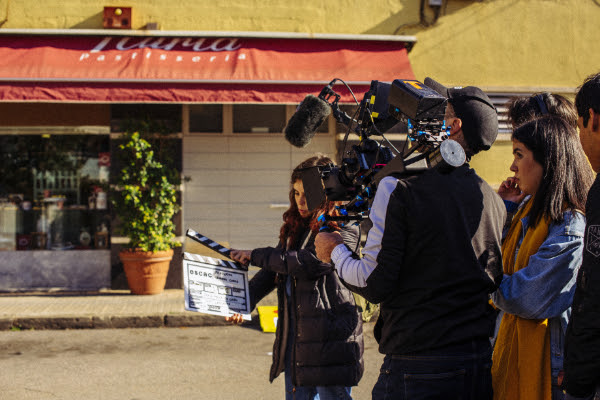 FOTO: VIVIAN DORSEY